Partner Christine Taylor Published in Glamping Business Americas Magazine on Employee Misclassification
Apr 19, 2023
ALBANY, NY | For the second time, Partner Christine Taylor was published in Glamping Business Americas Magazine, a notable publication in the outdoor hospitality industry that provides resources and expertise to its readers, which consist of new and existing owners of unique and luxurious outdoor hospitality venues and accommodations. This time, Christine explained in depth the various differences between an independent contractor and an employee. You can access the full article here, page 34-35.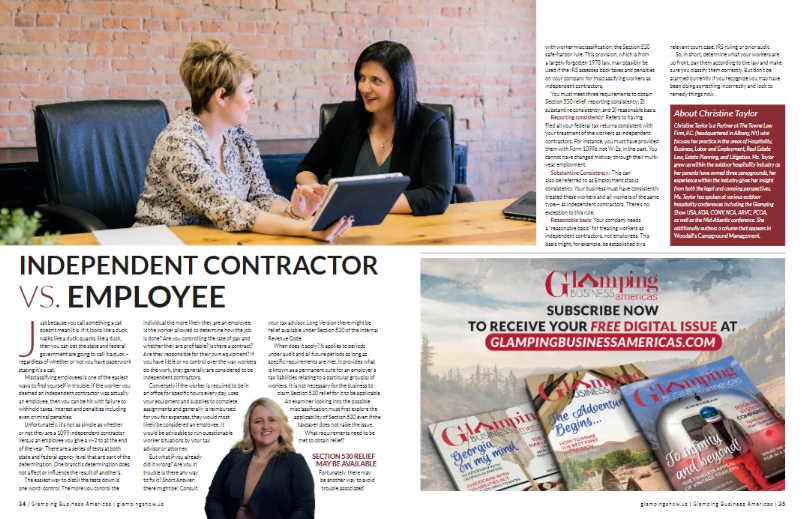 Misclassifying employees as independent contractors can result in legal and financial consequences for employers. The Internal Revenue Service (IRS) and state labor agencies closely scrutinize worker classification, and employers can face penalties, fines, and back taxes for misclassification. Additionally, misclassified employees may bring legal action against their employers for violations of employment laws and may be entitled to back pay and other damages.
Keep Your Venue Glamorous…don't let something as simple as misclassifying your employees cause your business harm. The Towne Law Firm has the experienced team you need to help you resolve your hospitality industry concerns, including employment law.
Did you know that TLF has been ranked Tier 1 consecutively over the past 4 years in U.S. News – Best Lawyers® "Best Law Firms" for Litigation – Labor and Employment for the Albany, NY metro? Our attorneys are experienced in advising and representing employers and employees in a variety of work environments.
Learn more about TLF's Labor & Employment legal services here.
Share