Associate Christine Taylor – Albany Business Review, Table of Experts: Women in Law
Oct 11, 2019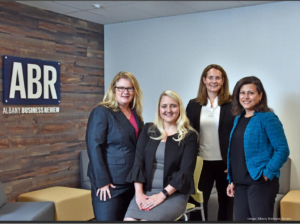 ALBANY, N.Y. – Associate Christine E. Taylor was invited to the Table of Experts: Women in Law. The Albany Business Review hosted four attorneys to discuss their experience overcoming adversity and progressing as a woman in the legal industry. The discussion was moderated by Sierra Kehn of the Albany Business Review.
Attorneys, Sandra Rivera, Rivera Law, PLLC; State Legislative Policy Committee Chairperson, NYSBA, Mackenzie Monaco, Director and Shareholder, Carter Conboy, Attorneys at Law, Kate Herlihy, Partner, Whiteman Osterman & Hanna, and Christine Taylor, Associate, Towne Ryan and Partners, P.C. discussed a variety of issues unique to women lawyers from the very specific life events that led them to practice law, to the way their careers have led them to specific practice areas.
The interview was published in the October 11, 2019 edition of the Albany Business Review.
Share