Partner Christine Taylor Published in Glamping Business Americas Magazine
Feb 21, 2023
ALBANY, NY | In its February/March issue, Glamping Business Americas published The Towne Law Firm's Christine Taylor's article, 'Defamation. Reviews. The Internet – Oh My.' The article touches on the subject of how outdoor hospitality owners and operators should go about handling the unfortunate, yet inevitable negative reviews that guests are likely to leave across the variety of channels that exist on the internet.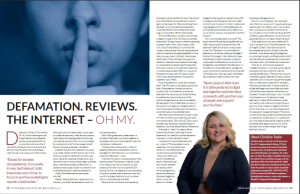 Is it worth a lawsuit or defamation case? Learn all about the best ways to handle bad reviews, no matter the type of industry or business you are in, from an attorney's perspective – read Ms. Taylor's full article (pages 38-39): Build Strong Roots | Glamping Business Americas | Feb 2023 by Glamping Business Magazine – Issuu
---
Whether you are a large hotel chain, an owner of several recreational vehicle parks, or a family owned campground, The Towne Law Firm, P.C. (TLF) has the experienced team you need to help resolve your hospitality industry concerns. Our clients can rely on our talented team of attorneys with their proven record of accomplishment in hospitality.
Learn More
Share