The Towne Law Firm, P.C. Earns 2 Metro Rankings in U.S. News – Best Lawyers® "Best Law Firms" 2022 List
Nov 4, 2021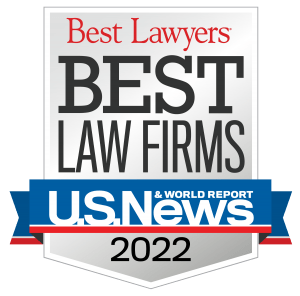 Towne Law Firm, P.C. (TLF), a law firm serving clients throughout the Northeastern region of the United States and headquartered in Albany, NY, proudly announces its ranking in U.S. News – Best Lawyers "Best Law Firms" 2022 List.
U.S. News – Best Lawyers recognized TLF regionally, in Albany, NY with a Tier 1 Ranking in Litigation – Labor & Employment and a Tier 3 ranking in Personal Injury Litigation – Plaintiffs.
These accreditations greatly align with TLF's broad depth of knowledge among the many practice areas the firm provides to clients. This is the 3rd consecutive year that TLF has been included on the list. Firms included in the 2022 edition of U.S. News – Best Lawyers® "Best Law Firms" are recognized for professional excellence with consistently impressive ratings from clients and peers. To be eligible for a ranking, a firm must first have a lawyer recognized in the Best Lawyers in America®, which recognizes only 6% of lawyers practicing in the United States.
Earlier this year, James T. Towne, Jr. and Robert H. Coughlin were both recognized in the 2022 edition of the Best Lawyers in America® list. Mr. Towne, the Managing Partner of the firm has been awarded for his work in Litigation in the area of Labor and Employment. This will be the fourth year in a row that Mr. Towne has been named to the Best Lawyers list. Mr. Coughlin has been recognized for his work in Personal Injury Litigation and has been named to the list, now for 2 years in a row.
---
The attorneys and professional staff of The Towne Law Firm, P.C. (TLF) comprise a general practice law firm advising clients and trying cases in a broad range of legal fields. From matters as small as a traffic ticket to the most complex business disputes, you may rely on our experience and availability. Our eight offices are in New York, Vermont, Massachusetts, and New Jersey, but the scope of our legal practice ranges from transactional to litigation services. Our team approach ensures our clients are provided with comprehensive service and personalized attention.
Our relentless dedication to your legal needs and the legal profession means we are there for you when you need us over the long haul.
Contact Us Today
Share