TLF Attends NADA Trade Show in Dallas, TX
Feb 3, 2023

ALBANY, NY | Last week, TLF Partner Shalini Natesan and Associate Megan Bassler took off from Albany, NY to Dallas, TX to attend the National Automobile Dealers Association (NADA) Trade Show and Expo, held at the Kay Bailey Hutchison Convention Center. Each year, NADA hosts this convention and expo in order to "offer dealers a full program of innovative products, emerging trends and networking opportunities for all areas of [their] dealership." Both Ms. Natesan and Ms. Bassler were able to discover the latest industry news and updates where it impacts the Firm's dealership client-base and pertains to the ever-changing legal scope of dealers' day-to-day operations.
A hot topic discussed amongst the various presenters at the show – the sale of electric vehicles (EV) and where it relates to the potential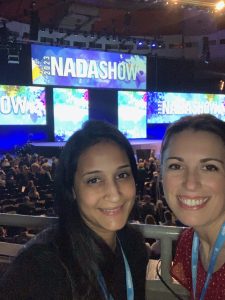 for liability, specifically concerning the batteries used in electric cars. Electric vehicles can cause hazardous situations like fires due to their batteries with an extreme difficulty of putting them out. As this poses a threat to the safety of employees and customers, dealers ought to have plans in place on how to prevent these situations and how to best handle them should they occur.
In anticipation of the loss of revenue from the service department due to EV cars, dealers should explore and identify creative solutions to reduce the potential financial impact. Dealers should also proactively implement policies and procedures for the storage of EV batteries, and train salespeople and employees on the best practices related to EV and regulatory requirements for maintaining a safe work environment.
---
Why have policies and procedures?
In order to best avoid litigation for your business, having proper policies, procedures and best practices in place can mitigate the risk of potential lawsuits and damages to your business. Reach out to The Towne Law Firm today to ensure your business is protected! info@townelaw.com or (518) 452-1800.
The Towne Law Firm, P.C. attorneys are recognized authorities in automobile dealership legal issues, regulation and litigation in New York, Vermont, and across the Northeast.  We provide legal representation to scores of new and used car and truck dealers, from everyday legal counsel to issues arising during transactions and in the course of dealings with agencies.
Our team of attorneys are skilled in counseling clients on how to best comply with the strict regulations imposed on automobile dealers and have successfully represented dealerships in handling consumer complaints and government investigations and prosecutions. Our exposure to every aspect of automobile dealership operations makes TLF's attorneys an invaluable resource in all business and legal issues confronting the day-to-day operation of vehicle distribution facilities.
Learn more about our Automobile Dealership Representation services here.
Share